Kitteny Thang (on the Kitteny Mat)

Thanks to her very loud mew we found her when she was a stray kitten in downtown Huntsville, AL (Summer 1999). We coaxed her out of the bushes with pizza and took her home...she still has a loud mew...Interestingly, we think Kitteny may be all or part Maine Coon. She was a big cat (bigger than our boy Hepper was). Sadly she has passed (we had to put her down in November, 2016).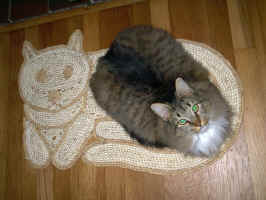 Kitteny in Repose (Notice the big ears - she was in her early days when this was taken).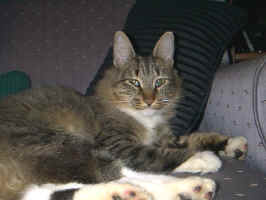 Is it a Growl or a Yawn??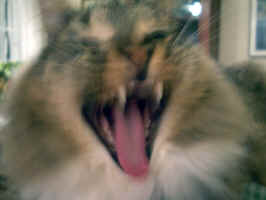 Henrietta (aka Etta Puff) - A sweet loving tiger - born a long hair but preferred being a short hair (via a shave).

Dates: Mid 90's (no-one is sure - she was a stray when she adopted us in Memphis, TN) - to September 2004 (hit by a car on High Street).
Hep Cat (aka Hepper) - He appeared on our front porch about the same time Marcus' band called Hep Cat was forming (around Thanksgiving 2004). Yep - the band named themselves after our kitty. He was a very cool, friendly and affectionate cat and the most beloved cat I have ever owned. I was devastated when he prematurely died after a routine surgery.
Dates: Late 90's or early 2000's (no-one is sure - he was a stray when he adopted us) - April 30, 2010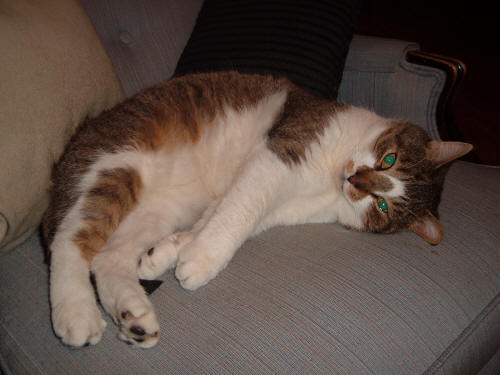 Hep Cat helping Dr. L. with the finer points of a journal article.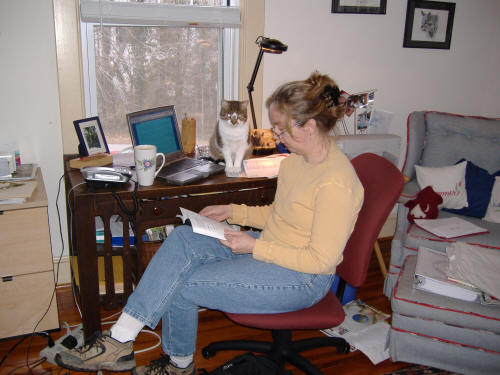 Hepper helping pack for our Grand Canyon Trip, Summer 2008.